Following on from my article on the basic decisions to make when considering a garden railway, the next, and critically important part of the process, is working out your track plan, and subsequently, what types of trackbed you're going to need.  Here I take a brief look at the most common types, and hopefully provide food for though for your own construction processes.
As a small sidenote, you may be considering building at ground level.  Unless you are going to be using one of the larger gauges (Gauge O upwards), it is not recommended, mostly because of the maintenance required at ground level is considerably more than that which is required for an elevated or 'off-ground' railway.  And as with all outdoor railways, make sure the track you are using is suitable – if you're building in O or above you shouldn't have any problems, but if you're building in OO (or smaller!) then you need to make sure your track is Nickel-Silver, the best stuff is made by Peco.
Using border walls
By far the simplest solution, and quite often one which defines your track design, is to use pre-existing border walls in the garden, or build new ones if you're planning on doing some planting (or 'real gardening', as my wife prefers to call it!) behind the lines.  If the wall is perfectly level, then this is a great solution, but you will have to be prepared to glue the track down as trying to nail track pins into concrete is not advised!  Or if you prefer a guaranteed, never moving method, you can bore holes into the wall, add a plastic plug and screw the track down; I would only suggest this if you're certain the track layout is never going to change!  In some cases, you may want to use a slightly rubberised concrete paint on the areas before gluing the track to provide extra grip for the glue and track.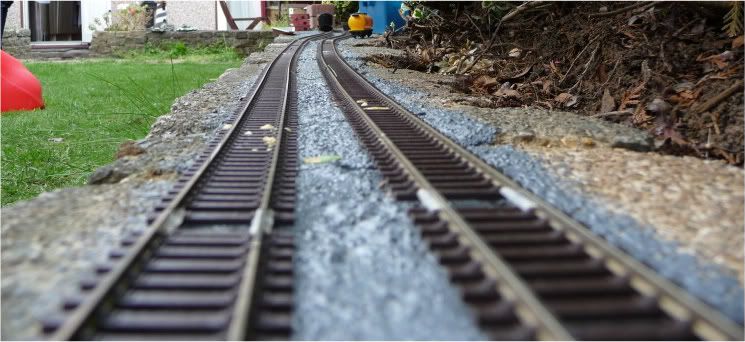 Knocking on Wood
For the model railway traditionalist, the long-used staple of wood for a layout base can be carried over to the garden, with a few modifications of course!  Just plonking any old wood down in the garden and nailing track to it is an instant recipe for disaster – the wood will either warp, split, 'melt' or simply rot away quickly, taking your precious (and expensive) track with it. To make the most of wood in the garden, the wood itself needs to be designed for long term outdoor use, such as pre-treated sawn timber, or better yet, purpose-made decking boards.  In either case, an extra protection for the wood is a wrap-around layer of roofing felt, similar to that used on flat roofs and garden sheds.
Building through the soil
In some cases, you'll want to create a trackbed through the middle of a flower bed or other soil-filled area.  You could use wood, as above, but this would only be a short term solution since wood rots quickly, regardless of how it has been treated, once it is embedded in a wet, boggy surface!  So, carve out a channel, and either make a continuous concrete cast or use small paving blocks.  Either way, be sure to have deep foundations to prevent movement of the surface once it's in.  You'd be surprised how much soil moves, even when you don't think it does!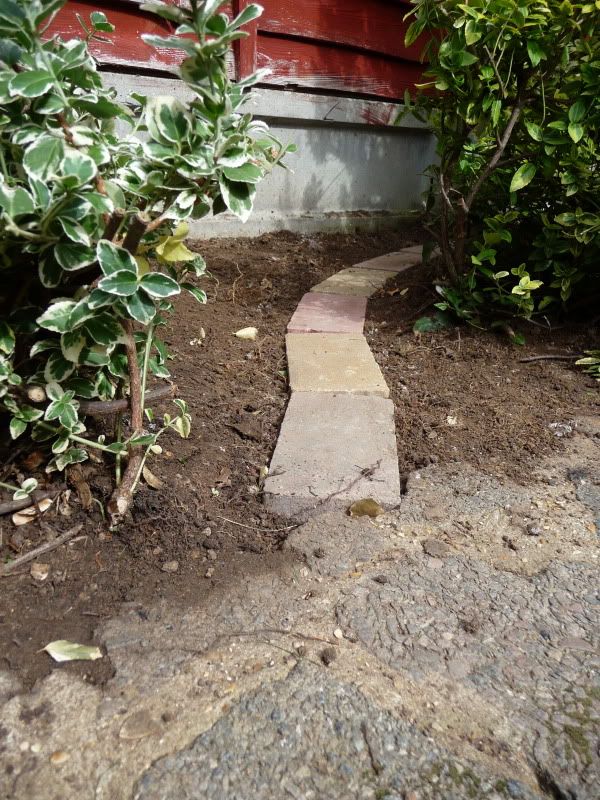 Scenic Features
One of the joys of building a railway in the garden is the ability to replicate prototypical scenic pieces on a grander scale than you can indoors – suddenly a ten foot long concrete viaduct across that dip in your garden or a 3 foot suspension bridge across the fish pond become very possible, and it's always worthwhile to integrate your railway as much as possible into the garden, so it flows naturally within the flowerbeds, ponds, crests and cuttings.  Don't be afraid to experiment; after all, it's in the garden and can always be pulled down and planted over if it didn't work!